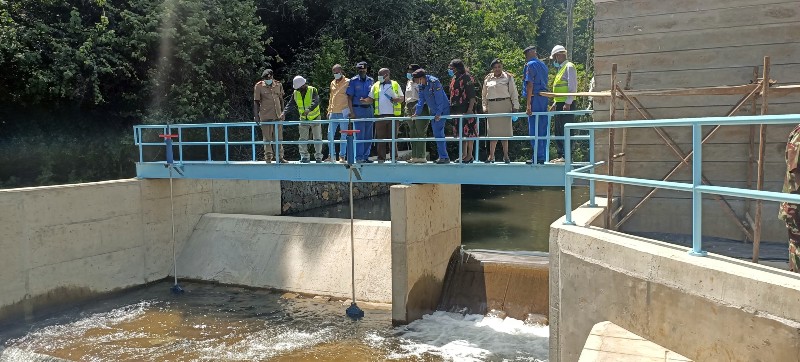 TWWDA CEO, Eng. Philip Gichuki accompanied by Region-Regional Development Implementation Committee (RDICC) inspects Chogoria Water intake on 8th Mar 2022.
Chogoria Water Supply Project is an African Development Bank (AfDB)-funded project under the Kenya Towns Sustainable Water Supply and Sanitation Program. Intake works at Maara Manyi River, Treatment works, 3 Kilometers raw water gravity main and 2No storage tanks and 15 Kilometers treated water gravity mains are to benefit 27,000 people in Tharaka-Nithi County.
Meeting between Governor Muthomi Njuki and County Commissioner Beverly Opwara, Tana Water Works Development Agency, CEO Eng. Phillip Gichuki, Nithi Water and Sanitation Company Chairman Gilbert Nkonge, Maara MP Representative, and other stakeholders discussing water and sanitation projects in Tharaka Nithi County implemented by the Agency.
Quality water works for improved livelihood